It is easy to know when the winetasting season is at its peak: Livermore hosts the annual Taste Our Terroir weekend! It is time to order tickets, because in less than a month, this exciting event launches again.
Starting on Thursday, July 25, and continuing all weekend, local winemakers and chefs come together to showcase their creativity and skill. This year the slate of events is rich and varied, with events for every interest and taste. From food and wine pairings to falconry demonstrations, this is a weekend like no other.
Thursday's kick-off event starts with a VIP sparkling wine reception on the garden patio of Casa Real, presented by Vino Destinations, Nella Terra Cellars, and Page Mill Winery. The patio features wines from Boa Ventura de Caires, Elliston Vineyards, Embodied Wines, and Omega Road Winery. This is followed by an hour of exclusive access to the food and wine pairings filling the indoor event space. General admission guests are admitted after that hour.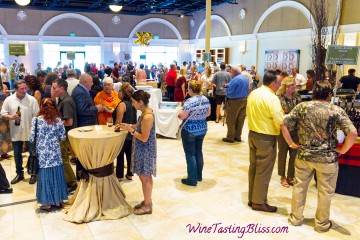 Seventeen local Livermore Valley wineries are teamed with local chefs to deliver a pairing that presents their partnership in its best light. A sip of wine and a bite of something tasty, what could be better than that? Repeating this delicious process seventeen times, that's what! This year, the pairings are:
Big White House Winery & Sauced BBQ & Spirits
Cuda Ridge Wines & Campo di Bocce
Darcie Kent Vineyards & Monica's Livermore
Eagle Ridge Vineyards & Terra Mia
Fenestra Winery & Backyard Bayou
Garré Vineyard & Winery & Garré Café
Las Positas Vineyards & Las Positas Vineyards
Longevity Wines & PLaYT
McGrail Vineyards & Bottle Taps
Mitchell Katz Winery & Atria Senior Living
Murrieta's Well & Murrieta's Well Culinary Team
Nella Terra Cellars & On the Vine Catering
Page Mill Winery & Millennium Restaurant
Retzlaff Vineyards & Salt Craft
The Steven Kent Winery & Sabio on Main
Wente Vineyards & The Wood Fired Kitchen
Wood Family Vineyards & First Street Alehouse
As they say on those infomercials, "but wait, there's more!" In this case, "more" means a dessert room. This room is filled with desserts and dessert-style wines poured by Bent Creek Winery, Cedar Mountain Winery & Port Works,  Charles R Vineyards, Rios-Lovell Estate, and The Singing Winemaker.
Thursday night is only the start of this amazing weekend. On Friday, Wente Winery hosts a vineyard garden tour and tasting lunch, from 10:30 to 1:00. At 5:00, Page Mill Winery gives attendees insights into how they create their sparkling Blanc de Blanc. There is even a lesson on sabering open a champagne bottle!
Saturday kicks off with a "Secrets of a Sommilier" presentation at McGrail Vineyards at 1:30. Certified Sommelier Jeremy Troupe-Masi will lead an interactive tasting experience, sampling Semillon, Sauvignon Blanc, Merlot, Cabernet Franc, and Cabernet Sauvignon. Darcie Kent Vineyards will host an authentic family style Paella dinner at at 6:00, with paella by Ñora Concina Española. The meal will feature wines from Darcie Kent Vineyards, Big White House Winery, Crooked Vine Winery, Longevity Wines, Murrieta's Well, and The Steven Kent Winery. The dinner will conclude with a professional Salsa dance performed by Arther Murray Dance Studio. Looking for something sweeter? At 7:00 Rios-Lovell Estate Winery will present a "Port-Apolooza." Winemaker Dan Baldwin will discuss the history and making of Port wines, including barrel tastings and a cheese and chocolate pairing.
It will be well worth being out and about by 10:00 on Sunday. California State licensed falconer and Embodied Wines winemaker & owner, Kimmie Orani Spears will present her falconry birds at El Sol Winery. Sip on some Embodied Wines and watch a flight demonstration. At 11:00 Retzlaff Vineyards will host a brunch prepared by Salt Craft with a rosé theme. Munch on amazing Salt Craft creations as you sip on wines from Embodied Wines, Fenestra Winery, Garré Vineyard, Nella Terra Cellars, Omega Road Winery & Retzlaff Vineyards. Don't forget to wear pink!
3 Steves Winery at 12:30 will be the place to be for a three year vertical tasting of wines from 3 Steves, Las Positas, and McGrail Vineyards. Compare the wines while chatting with the winemakers. A perfect way to wrap a great weekend of wine and food!
Tickets are available at the Livermore Valley Winegrowers Association web site. Don't wait too long to order; many of these events are expected to sell out. Can't wait to see you there!
---
About the Author
: John grills a mean steak and is always in the market for another wine fridge. Believes that if a winery has more than 10 employees, it's probably too big. Buys wine faster than he drinks it, but who cares?
---
It pays to subscribe!
We will send you a brief email whenever there's a new post, so you'll never miss an article. We promise not to be a pest. Unsubscribe any time you like. And, of course, we won't let ANYONE else use our subscriber list. By subscribing, you agree to our
Privacy Policy
.
So go ahead,
click here to SUBSCRIBE
!