Harvest time is a busy season for winemakers. This was quite apparent during our recent visit to Longevity Wines. Owners Phil and Debra Long personally handle every step of the wine making process, from picked fruit to pouring in the tasting room. Assisted by Presston (OK, we didn't get it at first either. "Presston = press ton of grapes"), their trusty canine Chief of Wine Security, this couple produces some lovely wines in a beautiful setting.
Longevity Wines
2271 S. Vasco Road
Livermore CA 94550
(888) 325-WINE
Friday – Noon to 5:00pm
Saturday and Sunday – Noon to 5:00pm
$5 tasting fee
Longevity Wines has a wonderful tasting room, but you would never know it from the street. It resides in a small strip of storefronts that you would expect to house a nail salon, and a Mailboxes etc. and maybe a chiropractor. Instead, this strip center features Nottingham Cellars, Occasio Winery and Longevity Wines. If you can find a parking place, you are all set. One stop; three wineries to taste. That's what I call efficiency!
Once you enter the Longevity tasting room, you are transported far away from a mundane strip center. Every element of the interior has been selected carefully to promote a calm, charming and sophisticated ambiance. The wines we tasted were crafted with the same care. Debra, the owner, was pouring and she made us feel right at home.
Presston, Chief of Wine Security
We started with a 2011 Pinot Blanc. This is a rich and buttery pinot, with a light oaky taste that floated over the tongue. Such a nice start to our tasting, this pinot blanc is perfect for an afternoon with a platter of cheese and crackers.
We moved on to their 2011 Chardonnay. This is a smooth and fruity wine with a surprisingly light finish. A nice chardonnay to sip and savor, because it can stand alone.
Next was a 2009 Zinfandel. Made from Paso Robles grapes, all hand- picked by the Longs, this was a wonderful surprise. A very light nose, but quite fruit forward. Light in tannins and a great introduction to Zins for newcomers to this varietal.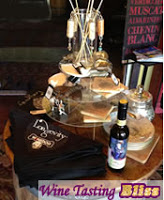 Some items for sale
At this point, it was a good idea to take a walk around. I wandered into the back room and discovered a charming party area and a very complete wine making facility.
Head cleared, we next tasted the 2009 Merlot. This is a very light merlot, low in tannin and just a hint of oak. A great bridge wine from cabs to more assertive merlots. This might be too little merlot for true merlot fans, though.
Debra next poured a 2009 Syrah. Made from Contra Costa county grapes, this was the wine that got thumbs up from all four of us. It has something for everyone, a slightly sweet fruit start with a dry and clean finish. A contender for best wine of the day!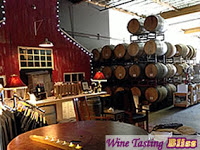 The lovely back room
We then tasted their 2010 Barbera. No longer on their web site's wine list, this varietal had a slightly sweet attack and a fruity finish.
The 2008 Philosophy (again we missed it at first: Phil*Osophy) is a nice blend:64% Cabernet Sauvignon, 14% Merlot, 9% Cabernet Franc, 11%Petit Verdot, and 2% Malbec. It was a hit with our group, described as "frisky" and "great blend". This is a light and fruity wine that's great now and will probably improve with a little time.
All good things come to an end, and our ending taste was the Longevity 2009 Zinfandel Port. Crafted from Lodi-grown zinfandel fruit, this was surprisingly light and not at all jammy. For people new to port, this is a nice introduction.
With thanks to Debra, we made our way out of her lovely tasting room and re-entered the harsh world of strip centers and Vasco traffic.
---
About the Author
: John grills a mean steak and is always in the market for another wine fridge. Believes that if a winery has more than 10 employees, it's probably too big. Buys wine faster than he drinks it, but who cares?
---
It pays to subscribe!
We will send you a brief email whenever there's a new post, so you'll never miss an article. We promise not to be a pest. Unsubscribe any time you like. And, of course, we won't let ANYONE else use our subscriber list. By subscribing, you agree to our
Privacy Policy
.
So go ahead,
click here to SUBSCRIBE
!