The world was finally coming out of a year-plus lockdown, so we did the natural thing: we went winetasting! On this glorious spring day, we started our Livermore tour at Las Positas Vineyards.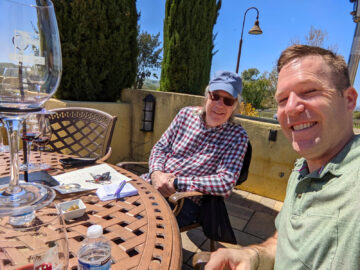 With the mild weather and all of the area's vineyards just starting bud break, we were more excited than normal to visit Las Positas Vineyards. Their outdoor seating is expansive and well-placed for viewing the beautiful Livermore landscape. We made advance reservations on the LPV web site, so our arrival experience was flawless. We had our choice of outdoor tables along the patio, and we decided to sit by the low wall to maximize our view and block the occasional breeze. Wine guide Michael got us seated and organized, providing bottled waters all around (hooray!) and our personal wine flight menus. Today's wine flight included a 2019 Verdelho, a 2017 Roussanne, a 2016 Coccineous, a 2017 Cabernet Franc, and a 2015 Meritage. Our excitement to experience these wines was palpable!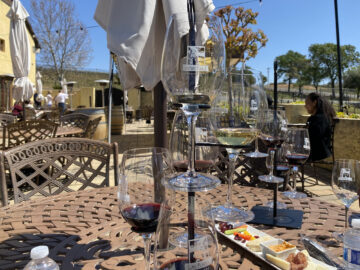 This was a first true post-lockdown winetasting experience (as compared to our lovely bottle party at Dashe Cellars the previous week), and we were intrigued to see how Las Positas Vineyards implemented their safety protocols. The social distancing was easy to see, as the tasting tables were well separated with plenty of room to walk to a table without impinging on anyone else's safety space. Cleanliness was also assured, with 30 minute cleaning periods enforced between hour-long tasting reservations. We each had our own single-use water bottles and menus. Everyone not actively eating or drinking was required to wear a mask, as was the LPV staff. All of these protocols, plus being completed vaccinated, made us feel very relaxed and safe. Michael then delivered our tasting, revealing their next safety protocol, a vertical spiral of wine glasses prefilled with wine. That dramatically reduced touches and close interaction and offered us a leisurely "proceed at your own pace" tasting experience.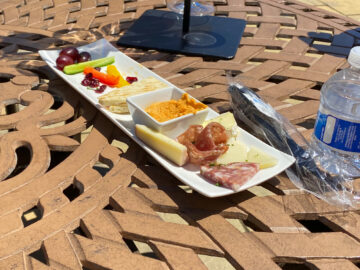 There was an additional element on offer at LPV: snack plates! There was a choice of charcuterie plate, flatbread plate, or an indulgence plate full of various delicious treats, all at very reasonable prices. Sarah decided to try the charcuterie plate, and she was not disappointed! She received a lovely array of nibbles, with grapes, veggies, flatbread and hummus, cheese, olives, and cured meats. Truly something for every taste. Sarah showed her typical generosity, sharing her plate with the rest of the table. We all agreed that this was a wonderful addition to the tasting experience. This was another example of Chef and AGM Curt Pipes deftly connecting their wine with their food to create a more complete experience.
As if Curt knew we were talking about him, he dropped by our table (with social distancing and masking, of course) to welcome us and talk a bit about their plans for the coming season. He plans to extend and expand the outdoor seating and produce live music events throughout the summer. The thought of sitting among the grapevines and listening to live music was very attractive to us, so we made a note to stay up to date on their concert series (and check out the bottom of our home page for this and other coming events at wineries near you).
We had several more wineries yet on our tour plan, so with thanks to Michael and Curt we set off down the road to our next tasting!
---
About the Author
: John grills a mean steak and is always in the market for another wine fridge. Believes that if a winery has more than 10 employees, it's probably too big. Buys wine faster than he drinks it, but who cares?
---
It pays to subscribe!
We will send you a brief email whenever there's a new post, so you'll never miss an article. We promise not to be a pest. Unsubscribe any time you like. And, of course, we won't let ANYONE else use our subscriber list. By subscribing, you agree to our
Privacy Policy
.
So go ahead,
click here to SUBSCRIBE
!