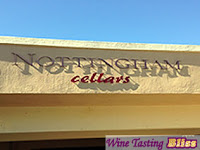 So let's say you have visited a winery or two and you are tired of standing or your plantars fascitis has you hobbling or you brought your 84 year old Auntie to the vineyards as an excuse to sit down, Nottingham Cellars is your destination.  Nottingham Cellars is a "stand out" (teehee) for several reasons — excellent, full-bodied wines, comfortable patio seating for tasting, and a staff that goes beyond deep knowledge and friendliness.
Nottingham Cellars
2245 S. Vasco Rd
Livermore CA 94550
(925) 294-8647
Friday-Sunday, Noon to 4:30pm
$5 tasting fee
At our most recent visit, we were served by Jill and Matthew.  Matthew entertained us with a guessing game that took our group conversation into novel territories ranging from NFL MVPs to State capitols to John Adams (and this was our first winery of the day). Our tasting consisted of 1 white and 4 reds.
Opening  with a buttery, toasted oak, French style was Nottingham's 2010 Micro Lot Reserve (MLR) Chardonnay. 100% of its grapes came from the Del Arroyo Vineyard in Livermore.  We thought the terroir, 200 feet above Livermore's Valley at the top of Crane Ridge, lent a pleasing touch of mineral to the warm pineapple creamsicle of this lovely Chardonnay, but this may be due to the wine class we recently took.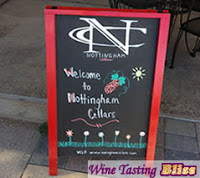 Nottingham's next pour was their Proprietary Blend AlphaRed Lot II, composed of their 2011 Petite Sirah, with a heavy dose of multiple Cabernet Sauvignons and splashes of Petit Verdot, Cabernet Franc, Syrah, and Merlot.  It all adds up to fruity cranberry tartness with a soft, dry finish.  Yummmm.
Jill then brought her smile and a taste of their 2010 MLR Malbec.  Our noses stayed in our glasses for a while with this one due to its wonderful aroma of cherry, vanilla, summer sweetness, and autumnal warmth.  Once tasted, we all enjoyed the Malbec's refined fruit, light tannins, and striking finish.  Matthew came with another game clue and Nottingham's 2009 Varietal Expression (VE) Cabernet Sauvignon, blended with 4% Merlot, 3% Petite Sirah, and 2% Syrah into a fruit forward, light yet full flavor with low tannins and a dry, crisp finish.
The 2008 MLR Reserve Cabernet Savignon was a surprise for us, with its cherry and chocolate notes, complex smokey roll in the mouth, and slightly raucous finish.  We all agreed we would want to cellar this for next October's lasagna or pot roast with a football game, and wow our guests.
Our host with the mysterious name
Our final tasting, served by Matthew (we laughingly lost the game), was the 2010 VE Petite Sirah, assertive and fun, abloom with blackberry and spice. Nottingham's tasting menu notes flavors of roast pork mole, for which even our wine class did not prepare us.  But the thought was planted as a menu item and I don't think the 2008 MLR Reserve Cab will make it to next October; I think we just found the perfect wine/food pairing for next weekend.
Nottingham Cellars is located in a strip center that features two other excellent wineries,
Longevity Wines and Occasio Winery.  We try to visit these wineries
before 1:30pm to be assured of easy parking.(Last visit we arrived at 12:30 and parked between a Rolls Royce and BMW SUV — good company, no door dings.)
---
About the Author
: Judi never does anything short, be it children (even at 5' 10", all 3 kids outgrew her), a voicemail message, a menu for family & friends, a day of visiting wineries, or a wine pour. Especially the latter; wine glasses are large for a reason! Her daughter-in-laws and their friends have a measure called The Judi-Pour. That means we have blessedly good relationships, 'cuz her name could be attached to worse. Sparkling wines are my go-to, but there is always a time for a peppery Pinot Noir or a crisp Pinot Grigio. Or a chill Sauvignon Blanc poolside or a toasty Cab in hand while playing bocce or a frizzante after work or.....
---
It pays to subscribe!
We will send you a brief email whenever there's a new post, so you'll never miss an article. We promise not to be a pest. Unsubscribe any time you like. And, of course, we won't let ANYONE else use our subscriber list. By subscribing, you agree to our
Privacy Policy
.
So go ahead,
click here to SUBSCRIBE
!