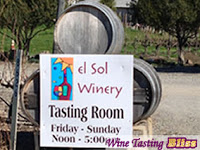 The el Sol Winery flies under the radar. Only the most observant wine taster will notice the sign on Greenville Road. Once Lupin Way is discovered, only the adventurous wine taster will advance to the driveway. Then, only the clairvoyant wine taster will find the tasting room. We were observant and adventurous, but sadly we were not clairvoyant. As a result, we first toured a fascinating array of sailboats and machinery before looping back to discover the tasting room. The good news? The wine was worth the struggle!
el Sol Winery
8626 Lupin Way
Livermore CA 94550
(925) 606-1827
Saturdy-Sunday Noon – 5:00pm
$5 or $10 tasting fee
The el Sol Winery seems to be designed and created exactly for us. The winemaker's palate matches ours. The bottle labels and interior art (by Sonya Paz of Campbell) resonate with our taste. The staff in the tasting room could fit into any backyard party we ever held. As you might expect, then, we had an AMAZING time.
The tasting menu has two flights. There is a $5 tasting and a $10 tasting. Never one to avoid a decision, we each took a flight and shared the tasting. That meant that we sample 18 wines. Anyone feeling sorry for us?
We started with the NV Grand Cuvee Champagne (otherwise you could accurately predict that we had been taken over by aliens). This is a nice, mid-sweet champagne that woke up our taste buds and set us up for our adventure through owner/winemaker Hal Liske's inventory of wines.
We quickly identified some consistent themes in the el Sol wines. Each wine had a common set of aromatics; a bit fruity and plummy with a smoothness that draws you into each wine. Likewise, the wines shared low tannins, a clear foundation from a single grape and a crisp finish.
Some of the wines were unique for their formulations. For example, the '07 Pinot Grigio Rosé has a Port aroma with an off-dry taste and amazingly clear finish. Great for sipping on the patio as spring makes it way into the back yard.
We loved the '06 Merlot S.F. Bay Reserve! A classic Merlot, with low tannins, a mellow mouth feel and a finish that wasn't dusty at all. Merlot lovers will embrace this one, and Merlot newbies will find this a great introduction to the varietal.
The '05 Charbono was unique. The Charbono grape is huge in Argentina and gaining fans here, too. We found it delicious, reminiscent of a light Zinfandel, with plummy and citrus notes. Lots of fruit and a personality that should hold up well to a cheese and crackers plate.
Once we tasted our way through their entire wine list, we thought we were done. Nope, there was more. We were invited to the adjacent barrel room to taste two works in progress: an '06 Syrah and an '07 Mourvedre.
The Lodi Mourvedre was available as a "bottle your own" selection, but we felt it still needed some time in on oak. Similarly, the Contra Costa Syrah was not quite ready for prime time. It was so delicious already that we purchased futures.
If you've never purchased futures, it deserves some consideration. You get a great wine at a great price, you just defer delivery until the winemaker judges it ready to sell. We counting the days until early summer, when this Syrah will be bottled and waiting for our return.
We had a great time at the el Sol Winery. Such a great time that we joined the wine club. Rumor has it that their parties are incredible. If today's visit is any indication, we will be spending a lot of time with these wonderful people and their amazing wines!
---
About the Author
: John grills a mean steak and is always in the market for another wine fridge. Believes that if a winery has more than 10 employees, it's probably too big. Buys wine faster than he drinks it, but who cares?
---
It pays to subscribe!
We will send you a brief email whenever there's a new post, so you'll never miss an article. We promise not to be a pest. Unsubscribe any time you like. And, of course, we won't let ANYONE else use our subscriber list. By subscribing, you agree to our
Privacy Policy
.
So go ahead,
click here to SUBSCRIBE
!