Mothers' Day is one of the few times that Mom gets to kick back and let other people take care of everyone. Every other day of the year has Mom making sure that everything is perfect: venue, food, beverages, even a purse full of creams, salves and pain relievers. That one precious day of the year was delayed a week for us (celebrating while traversing I-5 just isn't festive enough for us). Looking back, now, our delayed celebration lived up to our hopes for Mom's one special day. Here's how we did it:
No party is quite as festive as a winery party, but how about four wineries? Only through focus, dedication and a clear commitment to pacing could we pull this off. Challenge accepted! Step one: an amazing picnic at Darcie Kent. To our surprise, the weekend after Mothers' Day is a really quite weekend for wine tasting. That meant that we had the patio all to ourselves! Our amazing son and daughter-in-law showed up with cucumber sandwiches, a cheese and meat tray, and several dozen home made chocolate-dipped strawberries!
We started with Darcie's Grüner Veltliner and then moved on to one of our favorites, the 2010 Picazo Merlot. An amazing Merlot, the only looming problem is the dwindling stock. We have a reasonable amount in the house, but when its gone its gone. The smooth, low-tannin velvet Merlot was a great counterpoint to the soft cheeses and prosciutto on wheat crackers.
The Eagle Ridge Lineup of Wine
After we had proven that we couldn't eat one more chocolate strawberry, we packed up, said our goodbyes to the amazing DK staff, and headed off. Next stop: Eagle Ridge! We were shocked to realize that we hadn't visited Eagle Ridge since December. This was an oversight that demanded correction, and there's never a better time than the present.
To our relief, owner/winemaker Jim Perry still remembered us! We caught up, tasted our way through the Eagle Ridge and Dante Robere catalog, and generally re-acquainted ourselves with the whole Eagle Ridge vibe. We learned about some about-to-be released wines, and can't wait for the release party in June. Great to be back, see you in a few weeks!
From Eagle Ridge, we went on to another favorite winery that has been ignored for far too long: Eckert Estate Winery. Their new site (how long can we call it the "new" site?) is getting more decorated and comfortable every time we visit. We tasted some new releases (the release party is coming soon) and caught up on the travails of getting Mike's distilled spirits through the labyrinthian Federal approval process. It is a miracle that any spirits get approved, but we are sure that it will be worth the wait. Until then, we can only look at the various distillation columns in the tasting room and imagine how the products will taste.
With just a pinch of tasting life left in us, we decided to check out the new tasting room at Nottingham Cellars. We've enjoyed tasting with them several times before, but the new tasting area has been open for months without a visit from us. We didn't think that our Mothers' Day celebration could be complete without taking in the digs. We were not disappointed.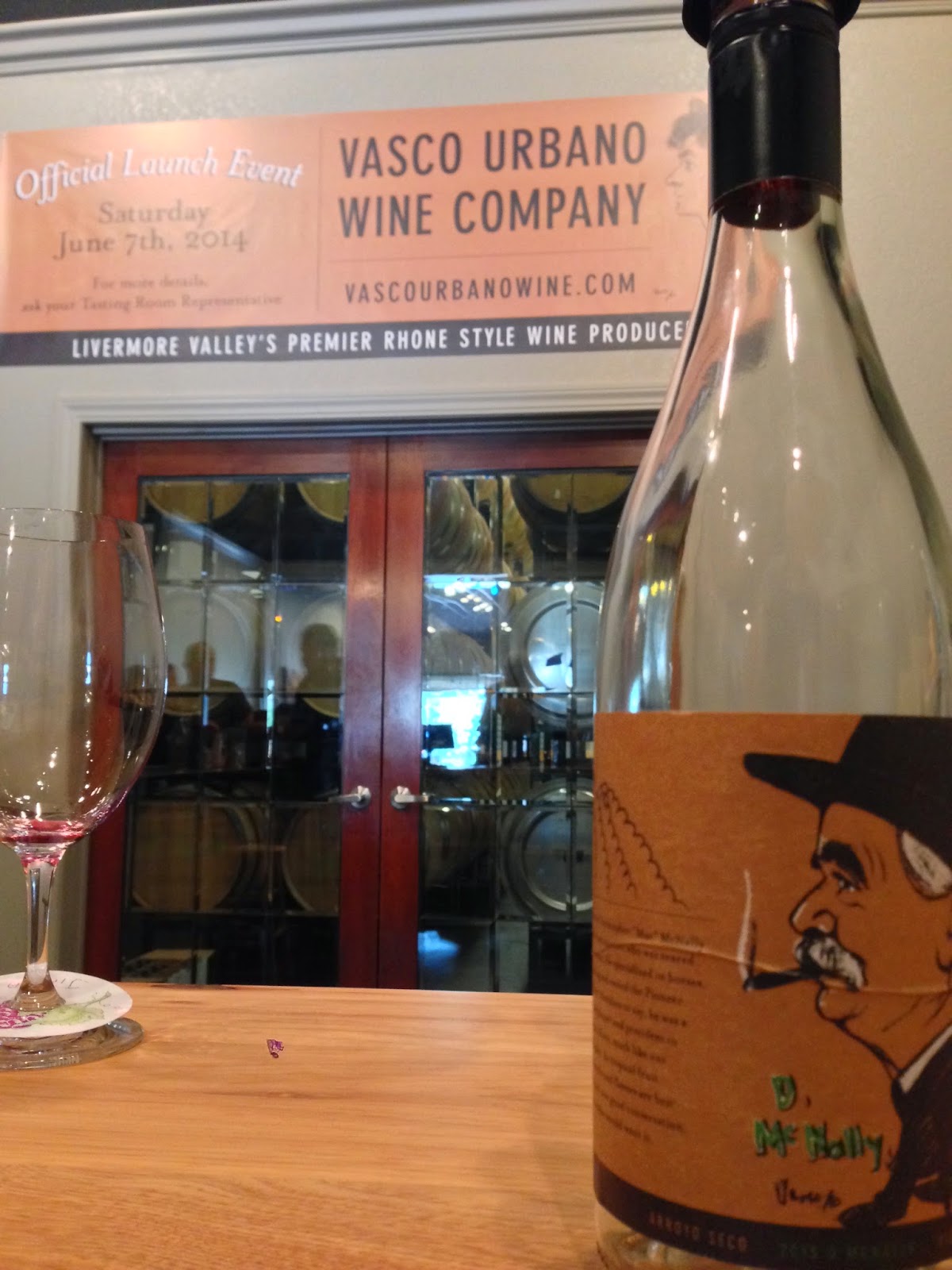 The new tasting room (located conveniently just behind the original space) is open and inviting, with cut-glass doors offering a teasing view of the barrel room behind. Our host for the day, Jim, was excited about the new wines, the new space, and the new label coming from Nottingham. The new label: Vasco Urbano, is named after a graphic artist. The wine we tasted under the new label was great, and Jim's enthusiasm was infectious. All in all, a very fun first visit to the new tasting room. Thanks, Jim and thanks Vasco Urbano!
After a full afternoon of picnic foods, an ample supply of chocolate-dipped strawberries, and four wineries, we felt that we had properly expressed our love and appreciation for Mom.
Here's to mothers everywhere! Cheers!
---
About the Author
: John grills a mean steak and is always in the market for another wine fridge. Believes that if a winery has more than 10 employees, it's probably too big. Buys wine faster than he drinks it, but who cares?
---
It pays to subscribe!
We will send you a brief email whenever there's a new post, so you'll never miss an article. We promise not to be a pest. Unsubscribe any time you like. And, of course, we won't let ANYONE else use our subscriber list. By subscribing, you agree to our
Privacy Policy
.
So go ahead,
click here to SUBSCRIBE
!