One of the perks of joining a winery's wine club is that you get to attend their wine release parties. Our strategy is to belong to enough wine clubs that we have a release party every few weeks. This week was particularly fun, because we had TWO release parties. Our first party was at Darcie Kent, and it got our weekend off to a great start!
Previous parties at Darcie Kent have been great, with live music, passed hors d'oeuvres and really great wine. Darcie clearly wanted to raise the bar, and we weren't disappointed.
We knew from previous parties that things heated up pretty fast, so we made sure that we arrived on time. This was not an event to arrive "fashionably late" because all the good parking and seating went to those who arrived on time. Given the warm, sunny day, seating at the tables was particularly critical to maximizing our enjoyment. The perfect seating was in the sun, but not too far from the oncoming shade, centered on the great band, but far enough away to carry on a conversation, and (always) enjoying a clear path to the wine tables. As a prompt arriver, we got a great table.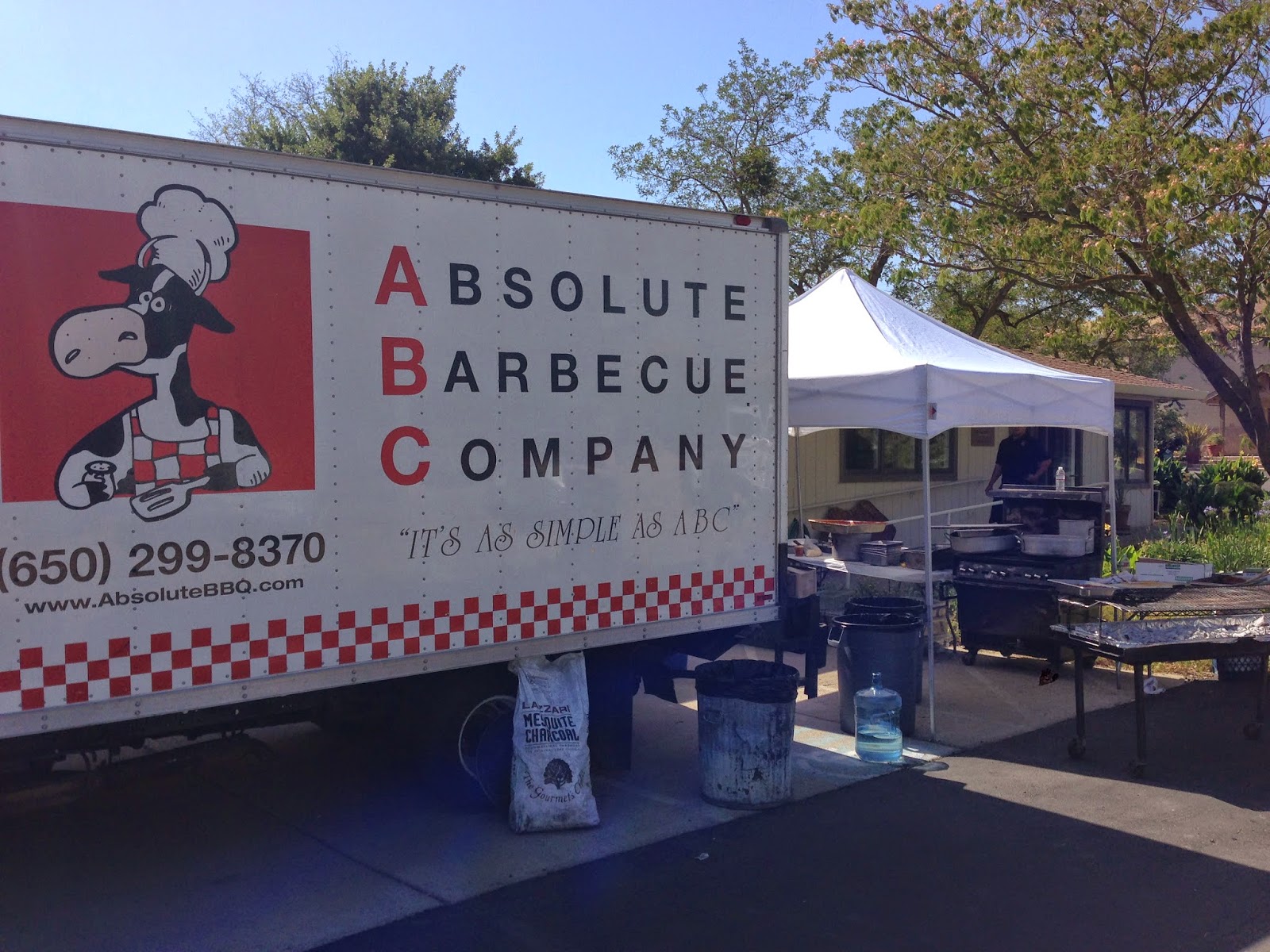 Even before we selected our seating, we were distracted by some amazing aromas coming from the catering area. The Absolute Barbecue Company was on duty, filling the winery with some truly wonderful smells. We hustled through the check-in process, picked up our glasses and made our way to the buffet line. A wonderful lineup! A complete dinner, from salad to desert with an emphasis on flavors that paired with the new wines. We particularly liked the pulled pork and the spicy slaw.
While we ate, we enjoyed The Bluesbox Bayou Band, hearing a fun blend of zydeco, blues and even a little Jimmy Buffett! The band had the traditional lead guitar, bass guitar and zydeco accordion, but my favorite instrument was the rub-board (seen on the far left of the picture to the right). Picture a wooden washboard, transform it to aluminum, and then mount it on shoulder straps. Boom! You have a rub-board. Played with a pair of spoons, the rub-board provided all the percussion you could want. A truly unique experience! Their music was fun, and a nice counterpoint to the wine and food. I kept finding myself swirling my wine in time to the music. Hopefully it wasn't too irritating to my table-mates!
Darcie's Toast
So we were (technically) there to sample the new wines and we applied ourselves to our task willingly. The new wines were a 2012 Chardonnay, a 2011 Long Rows Merlot, a 2010 Madden Ranch Cabernet Sauvignon, and a 2010 De Mayo Zinfandel. The Chardonnay was crisp and not too buttery, what we like to call "new style" without a lot of oak. We enjoyed it with the fruit salad starter and went back to it when we sampled the berry cobbler dessert.
The Merlot was fruity and low in tannins, a nice match for the chicken. This is a good "gateway" Merlot, perfect for people who think (mistakenly) that they don't like Merlot. There are only 100 cases, so we expect this to be sold out quickly.
The Cabernet Sauvignon was rich and complex, a favorite at our table. A nice pairing with the pulled pork, the berry notes balanced the zip in the pork brilliantly. Full disclosure: I went back for seconds on the pork to make sure the pairing was up to par. No sacrifice is too great to ensure accuracy!
The Zinfandel was a real treat! Well balanced fruit and pepper, this may become our favorite Zin among Zins. The surprisingly spicy slaw nearly screamed to be paired with this robust Zin. In an unexpected turn, we also paired it with the vanilla ice cream. That's a flexible wine!
The shadows sliding across the dining tables let us know that our fun was drawing to a close. We made our way  home and prepared ourselves to attend yet another wine release party in a mere 18 hours.
Cheers!
---
About the Author
: John grills a mean steak and is always in the market for another wine fridge. Believes that if a winery has more than 10 employees, it's probably too big. Buys wine faster than he drinks it, but who cares?
---
click here to SUBSCRIBE
!