Darcie Kent Vineyards is known for fine wines, a beautiful tasting room, and fun wine club parties. A recent special event showed yet another reason to visit: a free concert on the lawn! To start off the 4th of July festivities, Darcie Kent Vineyards hosted a concert by The Novelists. A bit of research on the internet let us know that this band had skills, so we made our plans to attend. It turned into an amazing evening!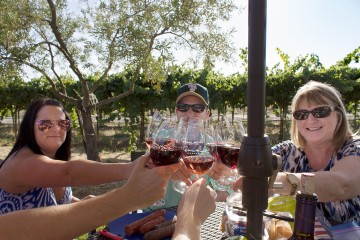 We have been fans of Darcie Kent Vineyards since the opening of their tasting room at the former location of the Cedar Mountain Winery. We enjoy their wine, and especially their wine club release parties. When we heard that they were putting on a sunset concert, we were excited. News spread quickly that mom and dad were going to a concert, and we were thrilled to have some of the offspring join in!
The band set up on the back porch and the DK staff thoughtfully scattered tables and chairs throughout the lawn area. When we chose a table, an umbrella was installed and adjusted to provide just enough protection from the setting sun. Family members who wanted some sun soaked it up, while others revelled in the shade.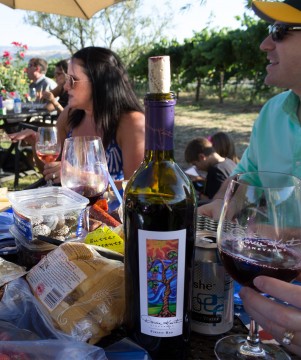 The concert announcement email emphasized that everyone was welcome to bring in picnic food. It turns out that winery picnics are something of a big deal with our family. Since practice makes perfect, and we've had a lot of practice, it is not surprising that our picnic basket was very much on point. A variety of cheeses and meats, crackers and rolls, fruits and veggies, and no shortage of chocolate! Plus the necessary accessories to slice, cut, spread, slice and keep the cold things cold. Some of our neighbors were casting envious glances our way, and I can't really blame them.
As we poured our Darcie Kent wine (we were pretty evenly divided between the 2012 Firepit and 2015 Victories Rosé), the band took the stage. We saw that The Novelists consisted of a guitarist, a bassist, a keyboard player and a drummer. The guitarist, whom we learned was named Joel Ackerson, thanked us for coming and launched into their first song. Within seconds, we knew that our decision to attend was going to be rewarded!
The band played a nice balance of original compositions and covers. We quickly discovered that all four of them were talented vocalists on top of being masters of their particular instrument. Early on, there was an amazing lead guitar solo. What made the solo even more amazing was the fact that no one was holding a lead guitar at the time! It became clear that the sound was was being produced by the bass guitarist (Zack Teran) , playing so far up the neck that it was producing these treble tones. An incredible demonstration of instrumental mastery.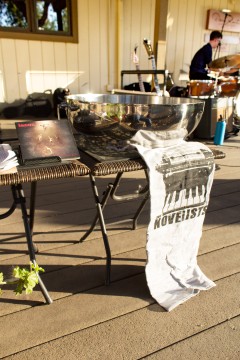 The Novelists were in the area to promote their new double CD  at a release event in San Francisco. The original compositions that we heard impressed us so much that we purchased a copy of their new CD. The band used an interesting "pay what you want" approach, with a stack of CDs placed beside a huge silver bowl. Buyers just put whatever money they felt appropriate in the bowl and took a CD. An interesting, and hopefully lucrative, approach to low-overhead retail. We were happy to have a keepsake of the evening, and judging by how quickly the stack of CD went down, a lot of other listeners were as impressed as we were.
The band also covered a wide range of well known artists, from Elton John to Toto to Bruce Springsteen to Marc Cohn. Each performer demonstrated a range of vocal styles, allowing the band to respect the original ethos of each song.With the sun finally below the ridge, they closed with a sing-along that got everyone involved: Bohemian Rhapsody by Queen!
Flushed by our successful contribution to Bohemian Rhapsody, we packed up our picnic, congratulated the band on an amazing performance and set off into the night. Our thanks to everyone at Darcie Kent Vineyards and The Novelists for a great evening!
---
About the Author
: John grills a mean steak and is always in the market for another wine fridge. Believes that if a winery has more than 10 employees, it's probably too big. Buys wine faster than he drinks it, but who cares?
---
It pays to subscribe!
We will send you a brief email whenever there's a new post, so you'll never miss an article. We promise not to be a pest. Unsubscribe any time you like. And, of course, we won't let ANYONE else use our subscriber list. By subscribing, you agree to our
Privacy Policy
.
So go ahead,
click here to SUBSCRIBE
!