Most of the time, a "CLOSED" sign on a winery is a sad thing. Exception? When the tasting room is closed for a Members-only Party and we are members! And few release parties are more predictably fun than the ones at the Darcie Kent Winery. Their 2015 3rd Quarter release party was no exception.

The only down side of consistently producing a well executed party is that word spreads. This party sold out in advance. Yes, the release party was at capacity before it even kicked off! Luckily, we reserved our (free) tickets as soon as the party was announced. Leave nothing to chance! We arrived a mere 15 minutes after the party was scheduled to start, to find that most of the driveway was already bordered by parked cars. Only our depth of experience allowed us to park near the party entrance. We'd disclose our secret, but then…. I'm sure that's understandable.
The formula for a Darcie Kent release party is simple, yet effective. Mix equal parts great wine, live music, fun food pairings and happy people and watch out! Good things happen. Some of these elements were back for an encore. For example, Chef Dylan Arriaza, owner of Vin X, was back with his amazing team! That meant creative food pairings, several of which actually contained the paired wine. Even the quinoa was tasty. This chef has serious skills!
Spill the Wine!
The live music was provided by Spill the Wine, a great combo with something for everyone. Frequent visitors to our blog will remember that we have very high standards for a winery band, and Spill the Wine ticked quite a few boxes: saxophone, keyboards, great lead guitar, good vocals, and a wide-ranging play list. They put a fun layer of artistry over the entire food and wine event!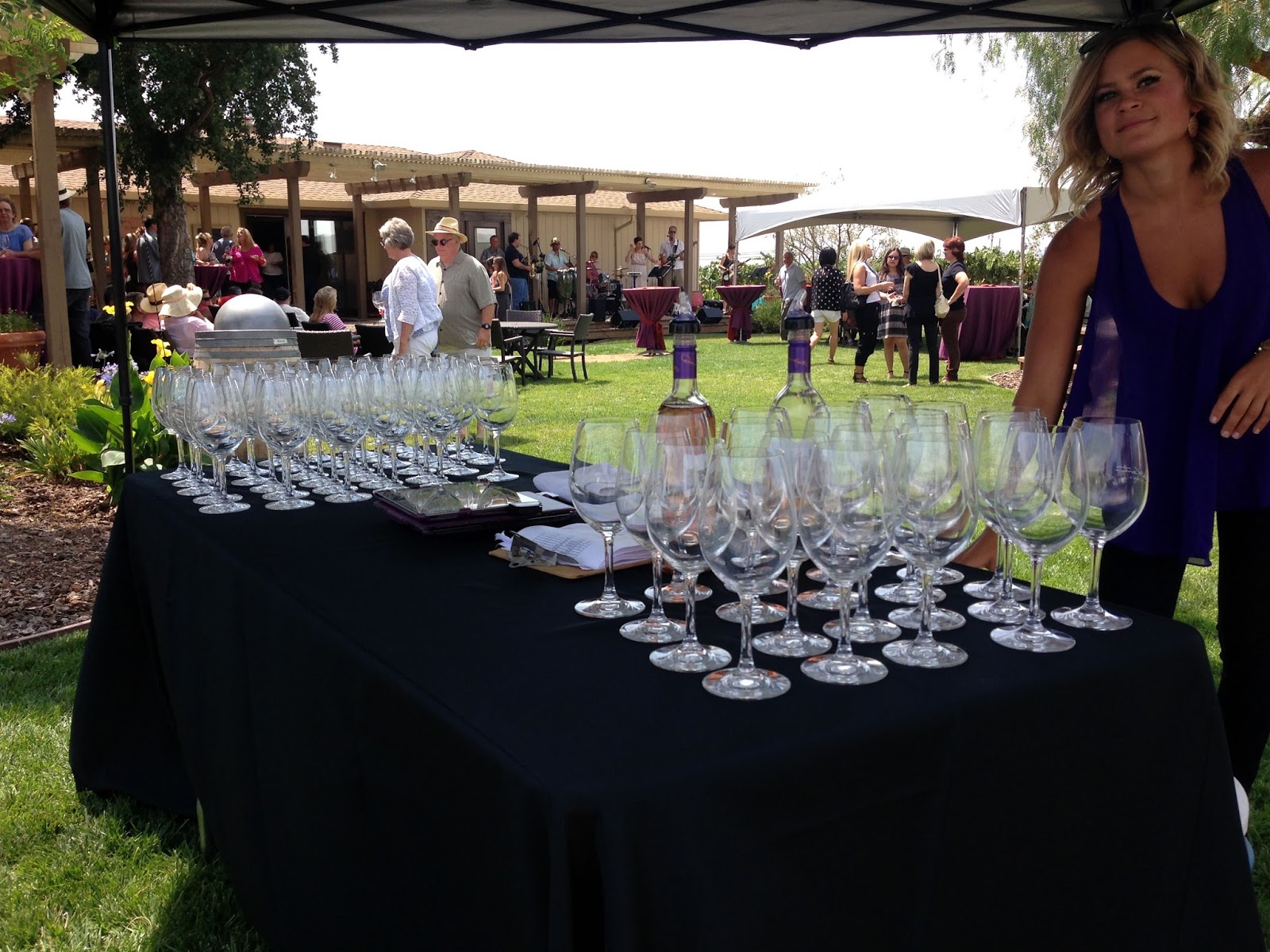 Our check-in
One of the secrets for success that the Darcie Kent Winery uses for every party can be summarized  as "victory through overwhelming force." That meant that there were wine guides at every point, ready to answer questions, pour wine (yay!) and generally help out. This began at the Check-in Station, were we were greeted and provided a wine glass for the day.
At check-in they poured an amazing 2014 Victories Rosé and oriented us to the party layout. The Rosé was surprisingly dry and refreshing, which was especially welcome on a day that was racing toward 100 degrees. This was immediately placed on our "bring home" list. Properly braced, we set off toward the tasting room to secure a shaded table from which we could take in the throngs of happy people, listen to the band, and send out scouting parties for wine refills.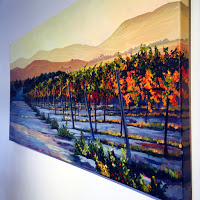 New art!
Oh, the wine! After the Rosé, we sample three different Chardonnays: a 2012 DeMayo Chardonnay, a 2013 DeMayo Chardonnay and a 2014 Central Coast Chardonnay. Something of a Chardonnay for every taste! Almost an embarrassment of riches. Our table appreciated the Central Coast the most, and celebrated the surprising difference between the two vintages of the DeMayo. The 2012 DeMayo was enjoying a Members-only price reduction to $15/bottle, which made it even more intriguing.
We pressed onward to two reds, also on sale for the party: a 2012 Central Coast Merlot and a 2013 Central Coast Zinfandel. The Merlot seduced us with a medley of fruit notes while the Zinfandel offered an amazing aroma and a long-lasting finish. We munched on an assortment of cheeses while we debated the relative merits of these two fine reds.Our group could not decide which of these well-priced offerings would be best with our planned tri-tip dinner, so we did the only sensible thing: we bought both! Sometimes problems have simple solutions.
Loving the Merlot!
With the preparatory wines behind us, we were now on to the new release wines. Each of these featured wine had its own food pairing. First up was the 2013 Merlot, Central Coast – Livermore Valley, which was paired with a quinoa salad with grilled veggies and dried cranberries. The Merlot was a great successor to the 2012 vintage we had just enjoyed (and marked to take home), and the quinoa salad may be the first public performance of quinoa that I actually enjoyed.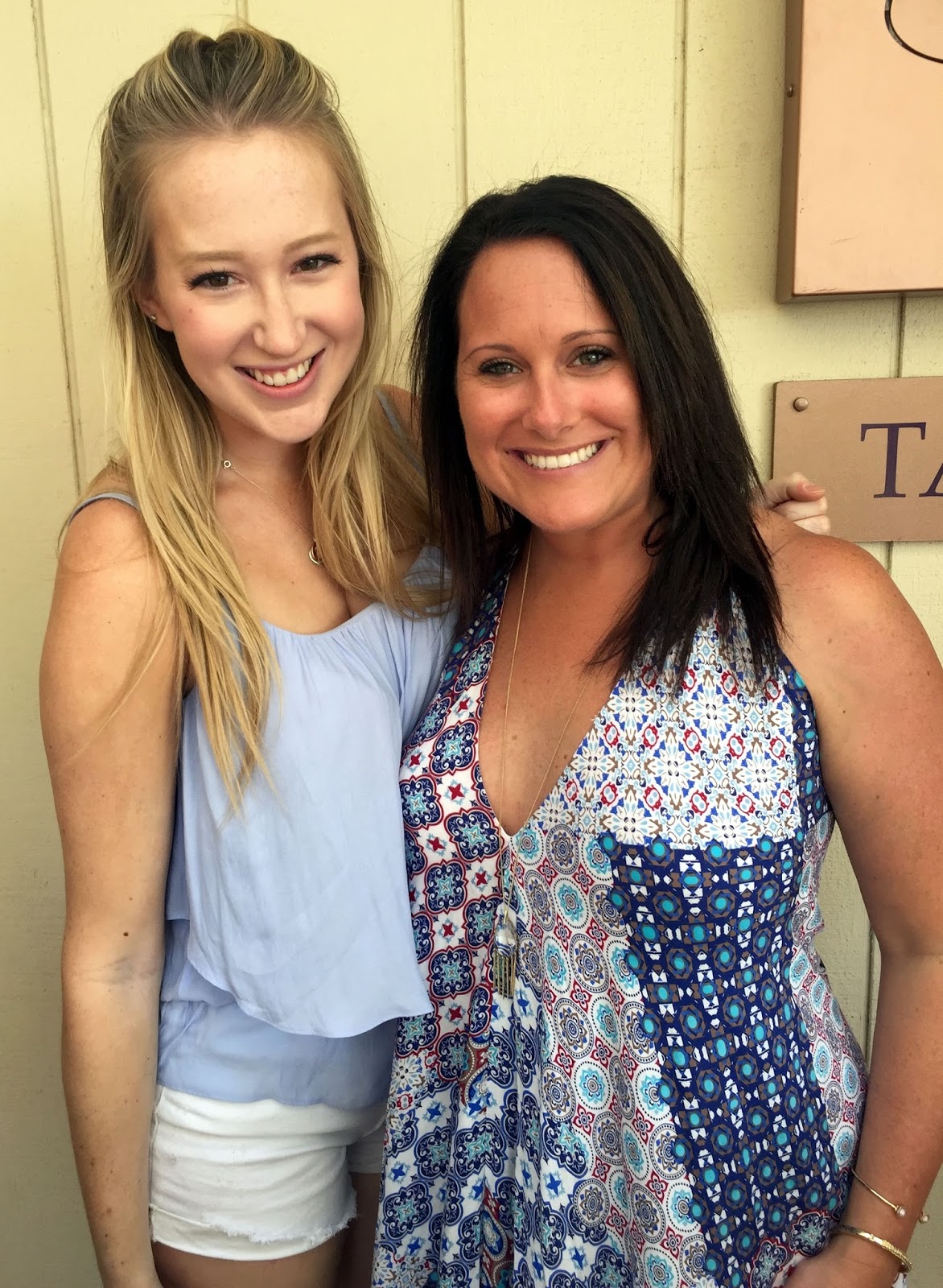 Welcome back to NorCal, D!
We next enjoyed the 2012 Choreography, Red Wine Blend, Livermore Valley, which Chef Dylan paired with Paella Valenciana. The paella contained seafood, so I had to pass, but the Choreography was amazing in its own right, with a complexity and smoothness that would make it perfect for solo sipping or pairing with a refined meal. We were excited to have one of these in our release pack. Score!


Winemaker Julian
Our final tasting was a 2012 Cabernet Sauvignon Clone 337, Livermore Valley, paired with an Asian spice-grilled salmon crostini. Again seafood kept me from sampling Chef Dylan's creation, but the Cab was amazing! Fresh and fruity, without some of the mustiness that can sometimes plague Cabernets. We can't wait to open our release bottle.
Since we had succesffuly tasted our way through the entire release party wine list, revisited several of the food pairings and viewed all of the new art hanging in the tasting room, it was finally time to head off for our BBQ finale to our birthday festival. We collected our release pack, with a side order of Rosé, Merlot and Zinfandel. Our wine rack will NEVER have an empty slot!
Our thanks to everyone at the Darcie Kent Winery for a fantastic afternoon! Cheers!
---
About the Author
: John grills a mean steak and is always in the market for another wine fridge. Believes that if a winery has more than 10 employees, it's probably too big. Buys wine faster than he drinks it, but who cares?
---
click here to SUBSCRIBE
!