One of our family's favorite ways to kick off the Christmas season is Livermore's Holidays in the Vineyards. This annual event brings together over 30 local wineries to celebrate the season, showcase their latest wines, and offer their visitors a little something extra in their tasting experience. We visited a number of our favorite wineries, and even met Santa!
Our first stop was at the John Evan / Big White House winery. The tasting room has a great reputation for holiday decorations, especially their upside-down Christmas trees. This year was no exception. The tasting room was gorgeous! The trees did not disappoint, but there were many other festive decorations competing for attention. Everywhere the eye could land was brightened by something festive and evocative of the season. Very well done!
Oh, yes, there was wine, too! We started with their 2013 Big White House Roussane. Crisp and bracing, this wine played tag with every part of the tongue. Our tasting was off to an encouraging start.
Next up was their 2013 Big White House Zinfandel. This was full of bright cherry and red currant (thanks, Bill) with just the right amount of pepper on the end. A good choice for pairing with food, because it has its own personality but won't overwhelm your palate.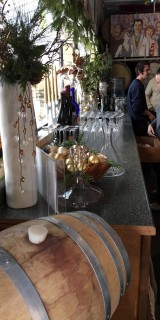 Their 2012 Big White House Petite Sirah was super smooth, with a very dry finish. We enjoyed the raspberry and lemon zest notes. Ideal for sipping beside the fire, roasted chestnuts optional.
The 2012 Big White House Syrah was our "pick of the tasting" for us. We loved the plum and raspberry notes. This one is a keeper!.
Our penultimate taste was their 2010 John Evan  Winter Star, a Bordeaux blend with great Cabernet nose and lots of fruit on the tongue. We all thought that it would be perfect with a burger and fries. Bacon optional. But really, why not bacon? The wine has plenty of personality to stand up to the bacon loveliness, so go wild!
Our closing tasting was their 2011 John Evan Late Harvest Syrah. This dessert wine was raisins and cinnamon, perfect for enjoying with a slice of apple pie. With a splash of this delicious wine in our glasses, we took a quick turn through the arts and crafts vendors located just outside the tasting room. Once we convinced ourselves that our Santa stockings were already bulging, we turned in our glasses and set off for our next winery.
We made a quick left out of the driveway and drove nearly 20 feet to the entrance to the Charles R Vineyards. The tasting room was already hopping, with people tasting, shopping and generally having a good time. We met our wine guide, Mary, who set us up with glasses and started our tasting with their 2014 Pinot Grigio. Refreshing, with veggies on the nose and great fruit on the tongue. A nice refresher after the dessert wine at John Evan.
Their 2009 Cabernet Sauvignon was a real treat. Faint tobacco aromas, with tart cherry flavors and a lovely, low tannin finish. A deft approach to delivering a fine, aged wine. This is what we hope for when we taste a Cab!
Their 2009 Syrah was a hit with all of us. Layers of fruit transitioning from one to the next. Tied for "pick of the tasting" with the Syrah was their 2010 Zinfandel. At its aging peak right now, this Zin exploded with fruit and zing like a Starburst chew. Buy it now, drink it now, you won't regret it. We completed the tasting menu with their 2010 Petite Sirah, a fun sipping wine with a bit of grass on the nose and a long, long finish.
We had more holiday spirit in us, so there were more wineries to visit. Check back in a few days to read about the rest of our day!
Cheers and Merry Christmas everyone
---
About the Author
: John grills a mean steak and is always in the market for another wine fridge. Believes that if a winery has more than 10 employees, it's probably too big. Buys wine faster than he drinks it, but who cares?
---
It pays to subscribe!
We will send you a brief email whenever there's a new post, so you'll never miss an article. We promise not to be a pest. Unsubscribe any time you like. And, of course, we won't let ANYONE else use our subscriber list. By subscribing, you agree to our
Privacy Policy
.
So go ahead,
click here to SUBSCRIBE
!