Holidays in the Vineyards is a central part of our lead-up to Christmas. This year we started our tasting at John Evan / Big White House and Charles R. Both were a lot of fun, but we felt that we had enough energy for more, so we maintained our focus and said goodbye to to the good people from Charles R. We then headed out to Cuda Ridge Wines. Their beautiful tasting was made even more enjoyable by the addition of two of our favorite things: Santa and live music. To be clear, Santa did not sing, but a guitarist in the side room provided a nice background to the tasting. Santa was… well, Santa!
As soon as we settled into the Cuda Ridge tasting room, wine guide John started our tasting with their 2014 Sauvignon Blanc. We enjoyed the pear notes that withstood the unusually cold temperatures caused by autumn day. As we sipped, we soaked in the holiday decorations. There were purple accents everywhere!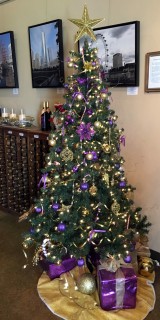 Our next taste was their 2013 Cabernet Franc. A unique blend of caramel and plum spice, with hints of butter in the background. John next poured their 2013 Malbec, very dry with a plum backbone. Our favorite taste was their 2012 Cabernet Sauvignon. John told us that it was aged in half French oak and half American oak. We appreciated the dark fruit and coffee notes. This one is a winner!
Our final taste was their 2013 Petit Verdot. For a relatively young wine, we found it complex and well balanced, with nice layers of fruit. We spent some time shopping, checking out the festively-decorated wine barrels and enjoying the live music. We also spent time chatting with owner/winemaker Larry Dino and, of course, Santa, but too soon it was time to head off for our final tasting.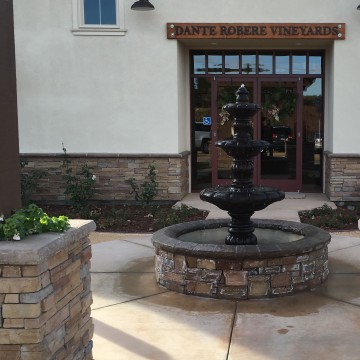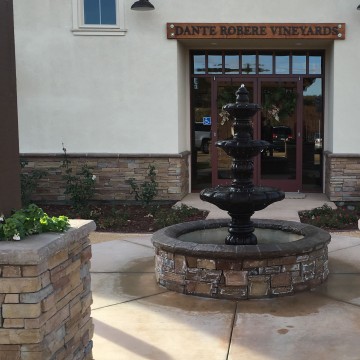 We decided to check out the new Dante Robere Vineyards tasting room as our last winery of the day. We arrived to find that they were abuzz with activity. A food truck was serving treats by the front patio and a craftsman was selling unique furniture made from wine barrels on the side yard. Inside the tasting room the energy continued, with the expansive bar full of happy tasters.
Dan, one of the owners, greeted us warmly and set us up with their 2013 Syrah Rosé. We found it very dry, with nice notes of lavender, pomegranate and marmalade. Next we tasted their newly released 2013 Grenache. Ideal for a summer afternoon by the pool, we liked the apple and strawberry flavors, with just a hint of white pepper.
Another new release, their 2013 Dantés Inferno, showed real promise, with strawberry, raspberry and spice elements. We think this deserves to be cellared for a few years, then enjoyed, ideally on the beach in Hawaii.
We then compared their two Zins: a 2012 vintage from Eagle Ridge grapes and a 2013 reserve vintage from grapes out of Dan's (the other owner) back yard. The Eagle Ridge Zin was light and bright, bursting with cherry notes. The Reserve Zin was a classic Lodi-style Zin. Which was better? That's probably situational, depending on the food pairing. We spent quite a while deciding which one to take home. It was a close decision, but the choice came down to which vintage was more likely to sell out in the near future: the Eagle Ridge won!
Our final taste was their 2012 LexiCat II Port. Made in the tawny tradition, we enjoyed the mandarin orange aromas and smooth satisfying finish. Properly fortified (sorry), we purchased a 2012 Zinfandel, said our goodbyes to Dan and Bob, and headed off into the night. Another successful Holidays in the Vineyards! Now we are in the proper frame of mind to take on our immense shopping list.
Cheers and Merry Christmas everyone!
---
About the Author
: John grills a mean steak and is always in the market for another wine fridge. Believes that if a winery has more than 10 employees, it's probably too big. Buys wine faster than he drinks it, but who cares?
---
It pays to subscribe!
We will send you a brief email whenever there's a new post, so you'll never miss an article. We promise not to be a pest. Unsubscribe any time you like. And, of course, we won't let ANYONE else use our subscriber list. By subscribing, you agree to our
Privacy Policy
.
So go ahead,
click here to SUBSCRIBE
!