We recently visited the Rios-Lovell Estate Winery to kick off an afternoon of wine tasting. We had not been to this winery in many years, and things have certainly changed! What had been a small tasting room has grown into a large and tastefully-landscaped tasting room and event center with  indoor and outdoor spaces for weddings and other special events. In fact, the tasting room where it all began will shortly be transformed into a lounge for conversation and wine appreciation in a more leisurely setting. We definitely stayed away too long!
Rios-Lovell Estate Winery
6500 Tesla Road
Livermore, CA 94550
(925) 443-0434
Wednesday – Friday – 11:00am – 3:30pm
Saturday – Sunday – 11:00am – 5:00pm
$5.00 tasting fee
We arrived early (OK, early for us), since Rios-Lovell opens their tasting room at 11:00am. It was a beautiful Sunday, and we wanted to visit some wineries and still catch the 49ers game. We packed a snack for later and made it to the winery a bit after 11:00. We were very excited to be served by the founder, owner and winemaker, Max Rios.
Spend 10 minutes with Max Rios and you learn that he is passionate about his wine and his family. Spend an hour with Max, as we did, and you understand why his winery has established such a great reputation for fine wines and award-winning ports. Max is fascinated by how different grapes blend together to create unique and amazing flavors. The results of this fascination are evident in a broad and varied catalog of wines.
The Original Tasting Room Backdrop
The Rios-Lovell wines are wonderful without exception. Every wine is made from estate-grown grapes. The four of us tasting this day were all fans of sparkling wine, so we started with their non-vintage California Champagne. Crisp and dry, with a hint of peach. Delightful on a summer afternoon. And not to read ahead, but this sparkling wine played a starring role in a happy surprise later in our tasting!
We then tried the Chardonnay. We found it jammy and not quite as dry as we prefer. Lay this one down for a year or two and expect wonderful things.
As fans of Pinot Grigio, we couldn't pass up a taste of Max's interpretation. This was very light, and not fruity at all. It just danced across the tongue, leaving a trail of happiness behind. A great companion for a fruit and cheese plate.
Next we sampled the '08 Zinfandel. This new release was quite pleasant. Not too forward or full of tannin, so a nice "introductory" Zin for people just starting to explore the varietal.  With a very clean finish that just begs for another sip.
Another highlight of our visit was a side-by-side comparison of their '05 Petite Sirah with their '07 vintage. We fell in love with the '05, no doubt about it. This wine is complex, balanced and has just the right amount of tannin. With a dry finish, this wine is perfect for serving with a steak (or the favorite tri-tip). We enjoyed the smoothness of the '07, and expect that a little more time in the bottle will mature this into a wonderful wine. Two bottles of the '05 followed us home. Score!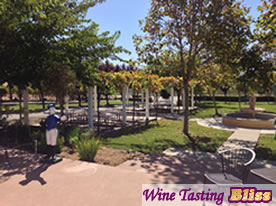 One of Several Outdoor Areas
The highlight of our wine tasting with Max was definitely when he brought out the ports. Yes, ports plural; very, very plural. More and more wineries are dipping their toe in the port-making pond. Max Rios has jumped in head first. When he asked if we were interested in tasting his ports, I thought, "sure, why not" without realizing what was in store. So began an amazing journey through the Rios family of ports.
We began with the '09 Cabernet Franc Port. This won "Best in Class" at the 2012 US National competition, and we heartily agree with that recognition. This was mid-sweet, with notes of chocolate and cherries jubilee. Don't judge, we tasted cherries jubilee. A bottle of this amazing port found its way into our purchases.
We moved on to the '06 Seven Grapes Port. This is made from six Portuguese grape varieties plus Sangiovese grapes. This was very smooth, with a distinctly raisin-y finish. If your friend doesn't like port, suggest this one. It has something in it for everyone, taste wise.
A Portuguese Port was next. A blend of seven Portuguese grape varieties, this was a "main stream" port for port lovers. Not too complex, with that port taste that keeps port fans coming back.
At this point, I was sure that Max Rios was done. Come on, three ports? That has to cover it, right? Oh no, he was just warming up. Out came the Petite Sirah Port. Yes, petite sirah. This double gold medal winner was a wonderful contradiction: amazingly light yet full bodied. Just when you think you've tasted it all!
A View Toward the Event Center
A Barbera Port was next. This is exclusively from barbera grapes (hence the name, I guess). We tasted sweet raisin and a hint of caramel. Yumm! Just right for a winter night in front of the fire.
Max next poured a Chardonnay Port and invited us to taste it, with a twinkle in his eye. He is a happy guy, but he was clearly up to something. The port was nice, light and had an intriguing layering of flavors. Then he delivered the punch line: he poured a splash of his California Champagne over the port! He created an amazing cocktail. The combination is hard to beat: the freshness and sparkle of the champagne with the complexity and punchy finish of the blonde port. Wow. This man has skills!
We were committed to visiting more than one winery, so we somewhat begrudgingly said our goodbyes. We purchased some wine for later (there are a few slots left in the wine fridge), and set off for our next tasting adventure. Thank you Max Rios for a wonderful adventure!
---
About the Author
: John grills a mean steak and is always in the market for another wine fridge. Believes that if a winery has more than 10 employees, it's probably too big. Buys wine faster than he drinks it, but who cares?
---
It pays to subscribe!
We will send you a brief email whenever there's a new post, so you'll never miss an article. We promise not to be a pest. Unsubscribe any time you like. And, of course, we won't let ANYONE else use our subscriber list. By subscribing, you agree to our
Privacy Policy
.
So go ahead,
click here to SUBSCRIBE
!