A few weekends ago, we had the chance to visit the Page Mill winery. This was our first visit to the new (newish? Don't judge, we don't get out that much) tasting room. We found the new room to be very well done with rustic wood and stone finishes, lending a great atmosphere to our wine tasting. Something that hasn't changed? The staff is still happy and welcoming.
Page Mill Winery
1960 South Livermore Avenu
Livermore CA 94550
925-449-9463
Friday – Sunday 12 – 4:30pm
$5.00 tasting fee
Parking at Page Mill is right next to one of their vineyards. The dirt road is rustic, but not a great walking path if you're wearing your prettiest shoes, ladies. We were able to admire the grape vines, and noticed that the harvest had just completed. There were a lot of clumps of grapes on the ground, apparently not meeting the pickers' high standards.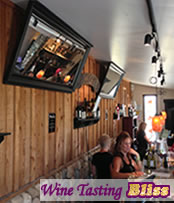 We are not members of Page Mill. Shocker, I know, but moderation in all things, right? That meant that we paid a $5 tasting fee for a flight of four wines. Like most wineries, this fee could be applied toward the purchase of a bottle of wine. And just a tip: the limitation of four wines to taste is "more of a guideline than a hard-and-fast rule" to quote Captain Sparrow. Be nice to the staff and maybe something nice will happen to you, too!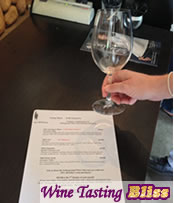 Tasting Notes Are Taken!
The first wine tasted was a 2011 Sauvignon Blanc. Their tasting notes spoke of "clean, crisp aromas, and is perfect with lighter fare." We found the wine to be very fruit forward, and a bit sweet for a sauvignon blanc. Especially nice for friends who don't like their wine too dry.
We were next served a 2009 GPS. Rather than a navigation device, the Page Mill GPS is a blend of Grenache, Petite Sirah and Syrah. I found the aroma reminiscent of my HO trains of my youth. I admit that this reference will not be found in your typical wine appreciator's notebook, but I have to call 'em like I smell 'em. Beyond the nose, this was a very smooth, drinkable wine. It is a bit on the dry side, with very light tannin.
Next, we tasted a 2010 Zinfandel. Their notes highlighted "a brilliant clarity and a pretty bouquet of a spicy traditional Zin." We enjoyed the smooth, mellow, slightly sweet start with a jammy finish. A good pick if you're serving some steak (maybe with a bit of Bearnaise sauce).
Our final (or so we thought!) tasting was their 2009 Petite Sirah. Page Mill writes that it is "rich and full of fruit." Our group talked about the nice start that was hampered by a biting, dusty finish. This one could become great in a year or two.
At this point we thought that it was time to clear away from the bar and make room for another group. To our happy surprise, we were invited to taste two more wines. Woo hoo! It pays to be friendly, I guess.
Our first "bonus" tasting was their 2009 Syrah. This comes from grapes grown in the Tazetta vineyard, right next to the winery. We found this wine to be a marvelously smooth syrah, ready to serve right now.
The second surprise tasting was their 2009 Santa Cruz Syrah. This was very different from the Livermore syrah. We found it not quite ready, with notes of leather and tobacco and a sharp finish. Serve now with spicy food, but lay it down for a couple of years for best enjoyment.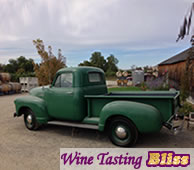 That brought our tasting to an end. We stretched it out a bit by enjoying the fun shirts and things for sale. It seems that the wineries have an active competition around who can have the most creative wine puns bedazzled on tee shirts. At least on this day, the prize went to Page Mill. Then, it was posing with the classic pickup truck out front and then it's off to the next winery.
—John
---
About the Author
: John grills a mean steak and is always in the market for another wine fridge. Believes that if a winery has more than 10 employees, it's probably too big. Buys wine faster than he drinks it, but who cares?
---
It pays to subscribe!
We will send you a brief email whenever there's a new post, so you'll never miss an article. We promise not to be a pest. Unsubscribe any time you like. And, of course, we won't let ANYONE else use our subscriber list. By subscribing, you agree to our
Privacy Policy
.
So go ahead,
click here to SUBSCRIBE
!