With Covid restrictions finally loosening, we excitedly restarted our "normal" life as expected: visiting some local wineries! Our first day out included a number of favorites, including a gem, Ruby Hill Winery.
Our day of winetasting was going extremely well. We started at Las Positas Vineyards, then continued to Dante Robere Vineyards. We decided to wrap up our day with another favorite, Ruby Hill Winery. It had been quite a while since our last visit (obviously) so there was a lot to catch up on. We checked in at the door and, as wine club members, were guided to the members' patio for our tasting. With the glorious weather, this was a wonderful setting for a tasting. The staff was uniformly happy, enthusiastic about being able to serve tastings, and very upbeat about the coming months at Ruby Hill.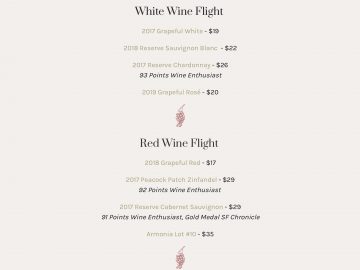 We received a single-use tasting menu, complete with QR code on the back. That allowed us to get more information directly to our smartphones merely by pointing our camera at the printed image. This triggered a web page that contained everything we could need to know about each of the wines on the flight. This is an additional convenience that I hope becomes part of the everyday tasting experience. More information is always better! Our personal tasting notes are fine, but it is easy to mix up details in an entire afternoon of visiting tasting rooms. Hooray for technology!
The patio had undergone a dramatic change while we were away, both to cope with the current Covid situation and to make the tasting and wine club release party environment more enjoyable across a wide range of weather and temperatures. The slatted roof was now a solid metal roof, with long, tubular area heaters suspended from the rafters for cool days, like today. For the warmer days, there were new ceiling fans installed to keep everything moving. This area was now equipped to be comfortable all year around, regardless of the weather. We will work hard to verify this by checking in at least monthly, just in the name of science. There are also new couch seating groups around the perimeter of the patio, with partitions between the groupings for additional isolation.
We chose our tasting flights and received our wine glasses by way of a spiral glass caddy, very similar to the caddies used at Las Positas Vineyards. Rob and I chose different tasting flights, which allowed us to cover more of their current offerings and compare and contrast the different approaches to the same varietal. First was their 2016 Jewel Zinfandel, a delicious example of the deft touch that Ruby Hill applies to the Zinfandel grape. The layers of fruit and lingering finish made the wine glass become empty far too quickly. Rob had the 2017 Sangiovese, a fun take on Sangiovese. Not at all a fruit bomb, with a good balance of acid and tannins, ready for a cheese plate.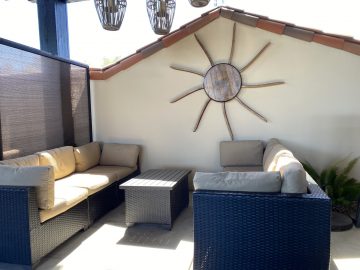 I next tasted their 2017 Reserve Cabernet Sauvignon, one of their flagship reds, and one of my favorites. Rob had the 2017 Peacock Patch Zinfandel. Full of bright fruit notes, and drinking quite well even with its young age. This wine has been one of our traditional Thanksgiving wines, and we made a note to pick up more of this lovely wine before it sells out. Luckily our club packs contained this wine. My next taste was a new wine, their 2018 Riverbed Red. This is a wonderful blend of 46% Cabernet Sauvignon, 34% Syrah, and 20% Petite Sirah. I especially enjoyed intriguing rosemary and slate notes and the dry, mildly tannic finish.
We wrapped up our tasting with their 2016 Reserve Petite Sirah and the 2016 Jewel Petite Sirah, head-to-head. We loved both, finding that the Reserve was more fruit forward while the Jewel had more subtle fruit layers and a bit more tannin on the finish. We were evenly divided on which was more delicious. A good problem to have!
Tasting complete, we collected our three wine club release packs (don't judge, we were sheltering in place) and set off to have some dinner. What a great start to a new year of winetasting!
---
About the Author
: John grills a mean steak and is always in the market for another wine fridge. Believes that if a winery has more than 10 employees, it's probably too big. Buys wine faster than he drinks it, but who cares?
---
It pays to subscribe!
We will send you a brief email whenever there's a new post, so you'll never miss an article. We promise not to be a pest. Unsubscribe any time you like. And, of course, we won't let ANYONE else use our subscriber list. By subscribing, you agree to our
Privacy Policy
.
So go ahead,
click here to SUBSCRIBE
!